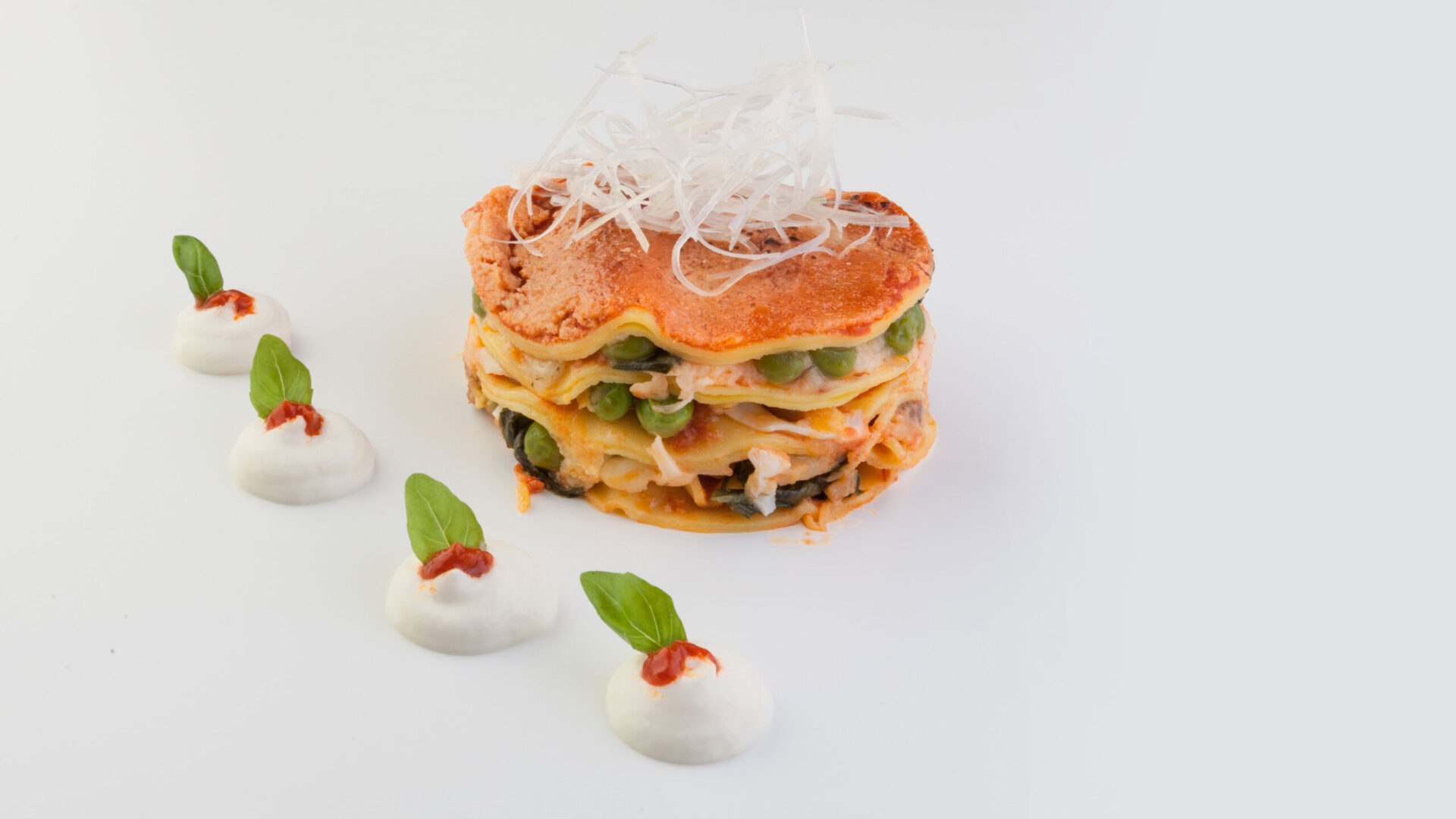 LASAGNA NAPOLETANA
Today I want to cook with you!
SATURDAY'S COLUMN
INGREDIENTS FOR 4 PEOPLE
FOR THE TOMATO SAUCE
100 gr of lean veal meat
20 gr of grated Parmigiano cheese
1 egg yolk
Flour "00"
salt
pepper
extra virgin olive oil
FOR THE SMALL MEATBALLS
100 g di carne di vitello magro
20 g di parmigiano grattugiato
1 tuorlo
farina 00
sale
pepe
olio evo
FOR THE FRESH PASTA
400 gr of flour "00"
100 gr of semolina flour
1 whole egg
13 egg yolks
1 tablespoon of extra virgin olive oil
FOR THE LASAGNA
500 gr of fresh pasta
100 gr of peas
4 hard-boiled eggs
100 gr of grated Parmigiano cheese
100 gr of fresh ricotta cheese
basil
TO GARNISH AND/OR TO PLATE
120 gr of burrata
2 spring onions or scallions
I grew up in a family where food and cooking were the pivot around which the entire day revolved. Setting the table with great care, even for the simplest occasion, was a way to make every meal a momentous occasion. Always put a little heart into it when you do.
Fresh Pasta
In a mixer, combine the flour, semolina, oil, egg and egg yolks; let the dough knead. If it's too hard, add a bit of water until it's nice and smooth.
Form a ball. Wrap it in plastic wrap and let it rest for at least 1 hour. After that, it's ready to go.
For the Tomato Sauce
Blend the peeled tomatoes and pass them through a coarse sieve. In a saucepan, heat the olive oil with the garlic, add the tomato puree and cook until it reduces. Season with salt and pepper and fresh basil.
For the Meatballs
Mince the meat. Season with the rest of the ingredients except for the flour and mix. Form into small meatballs, dredge in flour and fry.
For the Lasagna
Mix the tomato sauce with the ricotta cheese and chopped basil. Boil the peas.
Roll out the dough into sheets and cut them to the size of the baking pan. Cook in water and salt with a drop of oil.
Drain and let them dry on a cotton dish towel or a sheet of parchment paper.
In a deep baking pan lined with parchment paper, prepare the lasagna by topping each layer with the tomato and ricotta sauce, peas, meatballs, some of the Parmigiano and chopped hard-boiled eggs.
Top the last layer with the tomato and ricotta sauce and add a sprinkling of the remaining Parmigiano.
Place in oven at 160°C for about 50 minutes.
To Garnish
Cut the spring onions into julienne strips.
To Plate
On a flat plate place a slice of lasagna garnished with the julienned spring onions. On the side, arrange some burrata cheese, tomato sauce and basil leaves.